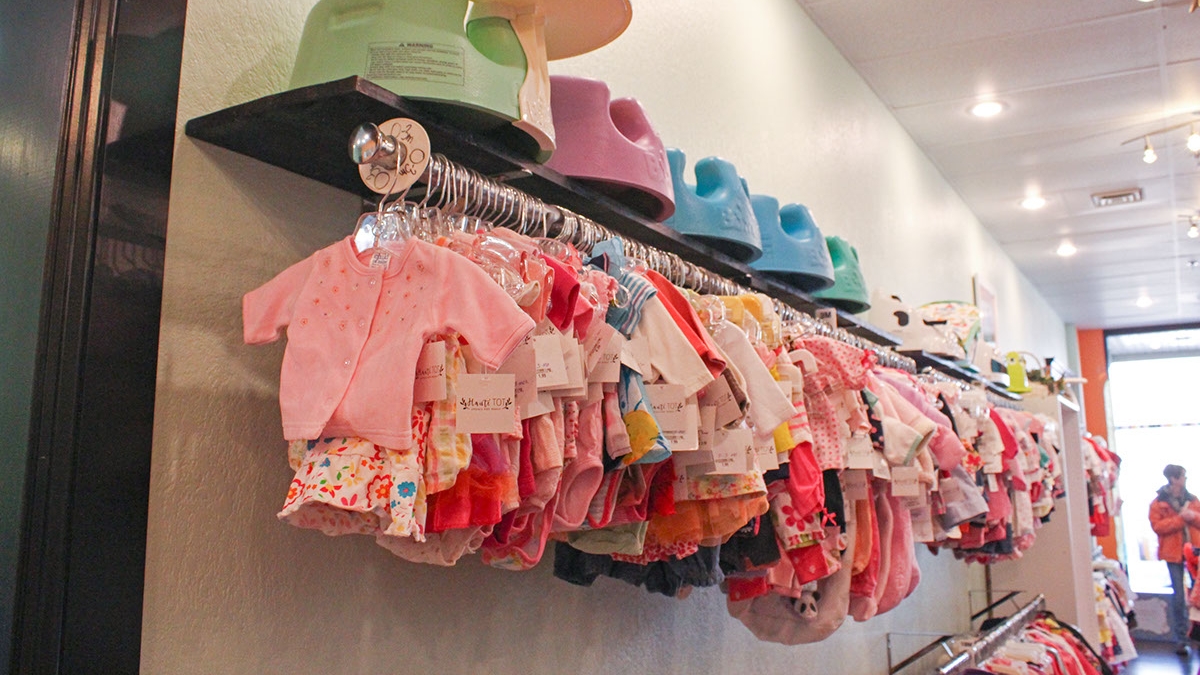 I have items to sell...How does it Work?
Haute Tot Upscale Kids Resale accepts children's clothing in sizes preemie to youth 20, shoes, accessories, toys, books and equipment. Our buying center is open from 10:00AM to 5:00PM, Monday through Saturday.
Now accepting maternity and select women's athletic and boutique clothing!
We pay cash or in store credit right away for your gently used clothing, shoes, toys, books and equipment. We pay from 15- 40% of the amount at which we will sell an item, which is 25-50% of the retail market value–25% more if you agree to spend the store credit at Haute Tot Upscale Kids Resale.
Clothing
It is most efficient for us to review items that are neatly folded or laid in a laundry basket, 18 gallon tote or kitchen bag. Please NO hangers, garage sale stickers or safety pins.
Please bring freshly laundered, buttoned, snapped and zipped clothing that is in good condition without stains, holes, odors, fading or excessive wear.
We buy all seasons all year!
Equipment and toys
Please be sure your items are in working condition and include all of the original parts. Items and toys must meet the current safety standards and be new within the last 4 years.
Haute Tot is always keeping up with product recalls, and safety information is a top priority to ensure the safety of all tots and to guarantee a high-quality selection. Making sure all products are up to standards is a MUST!
Appointments, Walk-ins, & Drop-offs
You may choose any one of three buying options: selling by appointment, walking in to sell, or dropping off your items. There is a limit of 1 laundry baskets, 1 - 18 gallon totes or 1 kitchen bags per drop off or walk in. Please make an appointment if you have more than the limit.
APPOINTMENTS
Appointments may be set up by calling 417-720-1602. At the time of your appointment, we will go through your items, let you know what we would like to buy, offer cash or in store credit, and return or donate items we're unable to take. Having an appointment minimizes the chances of having to wait.
Note: It takes up to half an hour to process two bags/bins of clothing, footwear and toys. If you decide to leave the store during your appointment you must choose a payment option before you leave.
WALK-INS
This is for those who value convenience. Walk-in hours are Monday-Friday 10:30-4:30. On arrival, we will take your name and contact information. Haute Tot Upscale Kids Resale's buying center operates on a first come first serve basis. We will let you know how soon a buyer will be available. The buyer will then go through your items, let you know what we would like to buy, offer cash or store credit, and return or donate items we're unable to take. If, for any reason, a buyer is unavailable to process your things in a manageable time, you may ask to Drop-off your things for later processing [See below].
Note: It is always a good idea to call us 417-720-1602 before you load up your items and bring it to the store in order to check the current wait time.
DROP-OFFS
This option is open to customers having once sold to Haute Tot Upscale Kids Resale and to customers walking in when buyer(s) are occupied and unable to process their things in a reasonable time. A drop off form is completed.
Note: Due to space limitations, we may be unable to accept more than 2 bags/bins of dropped off clothing. We do not allow toys and equipment to be dropped off.
Items We Do Not AccepT:
Car seats or car seat boosters

Stuffed animals

Pre-owned bathtubs, bath toys or bath seats

Video game systems or games

Bicycles without a kickstand or helmets

Pre-owned breast pumps or equipment

Opened formula, baby food or any WIC formula

Opened bags of diapers